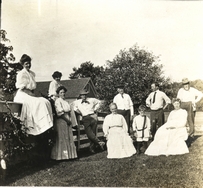 About the Church Farm Album
The original photo album consisted of 69 pages and 375 individual black and white photos. The original binding was dismantled; pages were photocopied to preserve the arrangement and individual photos were placed in archival sleeves.
The album arrrangement has been closely recreated here. Each photo on the page can be viewed as an individual picture in a higher quality jpg format. Individual photos contain any notes available.
Album can be viewed page by page; use the <previous> and <next> navigation buttons located at the top right. Individual photos can also be accessed by using the subject index.